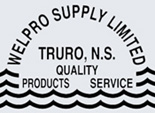 Main Menu
Quality Products and Reliable Service
WELPRO SUPPLY LIMITED
Well Drilling & Commercial Drilling Supplies, Pump Systems & Accessories
Now In Stock
Exact Pipe Cutting System
Now in stock at Welpro Supply Ltd, the Exact Pipe Cutting System

We Have 3 models in stock:

Exact 170E Sytem Saw Specs

Exact 220E System Saw Specs

Exact 280E System Saw Specs

We also have replacement blades, blades for stainless steel and blades for cast iron in stock.

For more information on other Exact Pipe Cutting systems, check out their web site here.

You can also check out the youtube video on the saws here.
Well Drilling, Commercial Drilling & Pump Supplies
Overburden Drilling Systems - Numa Super Jaws

Bits and Hammers - Numa, Drillmaster, Kayrock, Trident, Throop Rock Bits

Fluids and Grouts - Matex, Wyoben, ChemGrout

Drive Shoes and Couplings - Wellmaster Supply

Drill Rods - Star Iron

Rig Maintenance - FMC Bean, Gearench, Heisey Machine, Jet Lube, Buckeye, Twin Disc

Drilling Accessories and Tools -Alturna Mats, Western Rubber, Cotey Chemical, Heron Instruments, Reed Pipe and Tool

Pumps and Tanks -
AY MacDonald - Submersibles
Weber Industries - Webtrol Submersibles and Turbines
Franklin Electric
Amtrol Tanks
Robbco

Fittings and Supplies -
Maas Midwest
Boshart Industries
Campbell Manufacturing
Johnson Screens
Ipex
Certainteed

Water Conditoning -
We can supply all your water conditioning needs from simple sediment filters to UV systems. Call or email us for details.

Level Controls -
Gems Sensors
Warrick